Forum member wmodavis wanted a few details on the adapter tube I made to mount my camera to my Olympus BH-2, so here we go. Its really pretty simple.
Here you see the whole thing put together.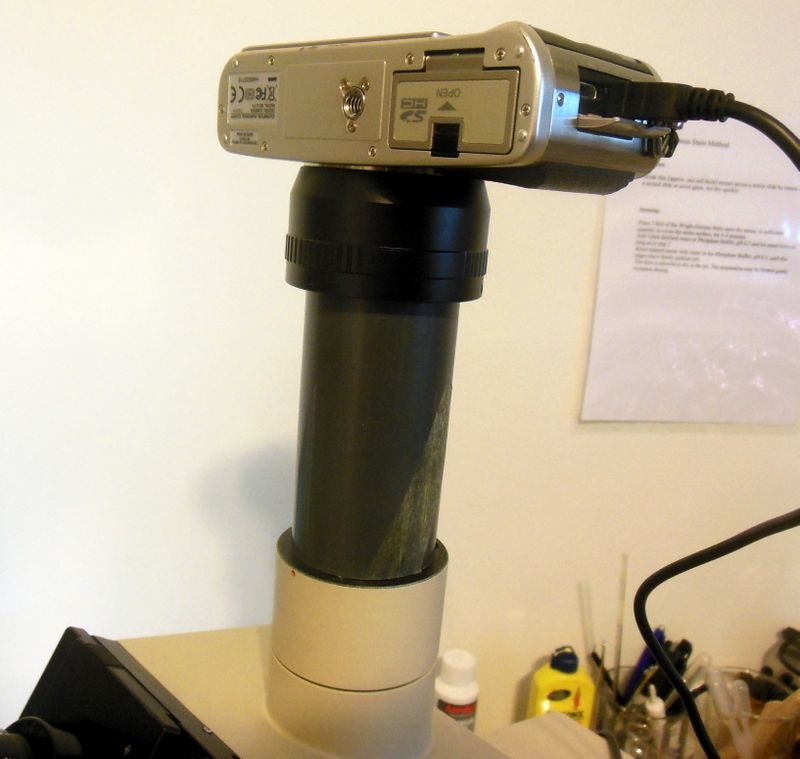 I found a 1 1/2" x 8" gray pvc pipe nipple in the junkbox. You can see it still has some tape on it, I'll have to clean it up someday.
The inside diameter of this pipe just happened to fit the photo eyepiece mounting flange perfectly. So, I cut off the threaded sections and squared up the cut ends on the lathe. PVC is very easy to machine, I use it for lots of things.
I happened to have an adapter for the Olympus E-P1 camera already, to match it to the T1 adapter on my LOMO scope. The adapter is threaded, but I didn't think the PVC would take that fine pitch thread very well, so I just turned it down for a snug slip fit. I had to eyeball the distance from the end of the installed adapter to the imaging sensor, and cut the PVC pipe to provide 150mm (per the Olympus literature) from the sensor to the photo eyepiece mounting flange. I cut it long and checked for parfocality to the eyepieces, shortened it a bit and checked it again, and over again until I got very close. I stopped a little early, I still have to refocus just a tiny bit to get the camera in focus. I'll trim another 5mm off and check it again, rinse and repeat. No problem if I go a little too far, I can make spacer rings to shim it back up if I have to. If I wanted to get fancy I could get another T1 fitting and put them together and use the mating threaded sections to fine tune the focus. If it gets too fiddly the way it is I might do that.
I just started playing with it on the scope last night, but so far I haven't had any problems with shutter induced vibration.
CE