I just purchased this HA2307 HDMI industrial camera, and I thought I'd share my experience.
The camera was purchased from eBay titled: 14MP 1080P Industry C-mount Digital HDMI USB Video Microscope Camera Zoom Lens.
Before I go any further I have to say that if you are looking for a camera that you can just plug into the laptop and control it like the EOS utility, this is not what you are looking for.
However, it didn't take much testing to really fall in love with it.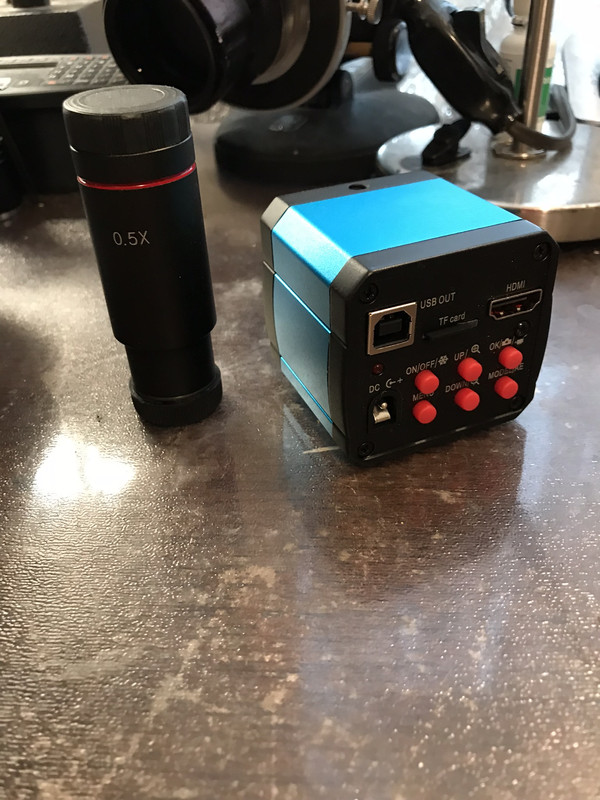 Camera and .5x snoot
The one I bought came with
14MP Digital Microscope Camera.
AC adapter
Remote control
USB cable
HDMI cable
.5x reduction lens that fits a standard 23.3 mm occular tube and comes with 2 adapters to 30mm and 30.2mm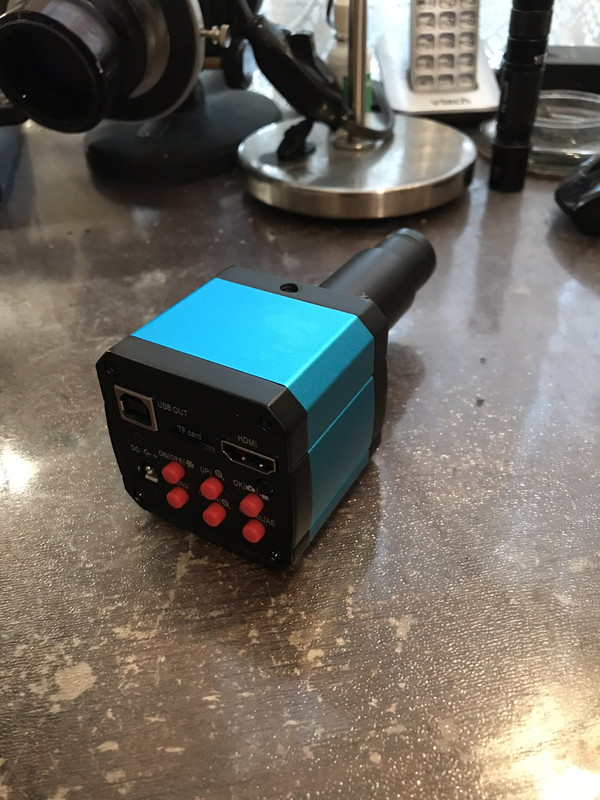 Camera assembled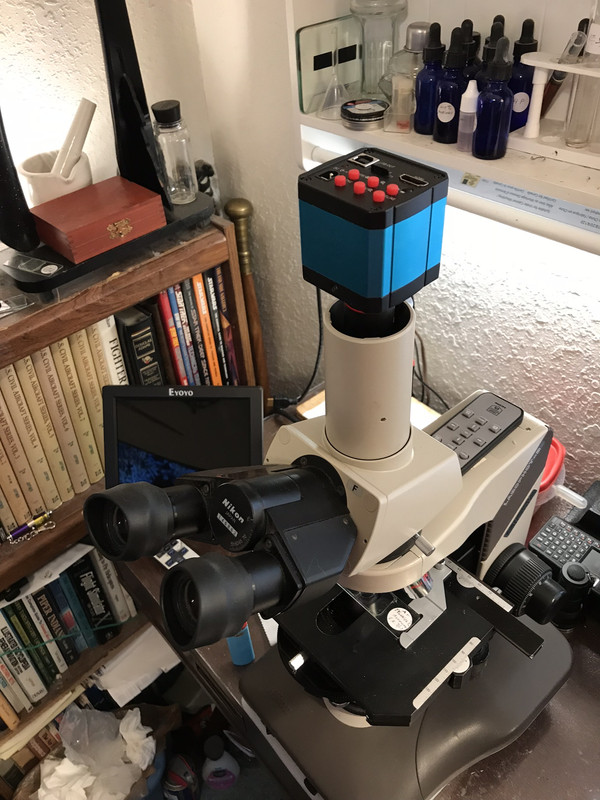 Camera atop microscope
There is a 3.5" cdrom with the driver and software that will setup on your computer. Also a number of documentation files and a URL to download better copies of the documentation and other drivers for multiple products.
It came from China. Normally I shy away from purchasing from outside the USA or at least several other countries I'm afraid to send money to. The stated delivery time was about six weeks out, but the unit actually arrived in four weeks.
The packaging was the minimum required to throw it out of a second story window and survive. Mine looked as if it had been defenestrated at least twice on the trip. Much to my surprise, however, all arrived intact and functioning.
The first thing I tried, was plugging the usb into my laptop and starting the included application. This resulted inn an image, but I couldn't see any menus or get a white balance. However one of the apps on the cd is a measuring program. I still have to explore this and figure out a few other features, but I have had fun learning to use it.
After reading what documentation came with it, and laughing at some of the machine translations, it seemed certain that the camera needed to be plugged into an HDMI monitor in order to see the menus and camera options. The camera also requires a mini SD card of 32Gb max. And it wont even see one that is larger that this.
Using an HDMI monitor gives you access to the camera controls, and can be accessed from the buttons on the back of the camera.
The menus are relatively intuitive, and I discovered that after I set an exposure, I like to set the menu on white balance and leave it there when closed. Select 1 button white balance because I will be using it a lot depending on what I am captruring.
I soon developed the habit of white balancing each shot as I composed.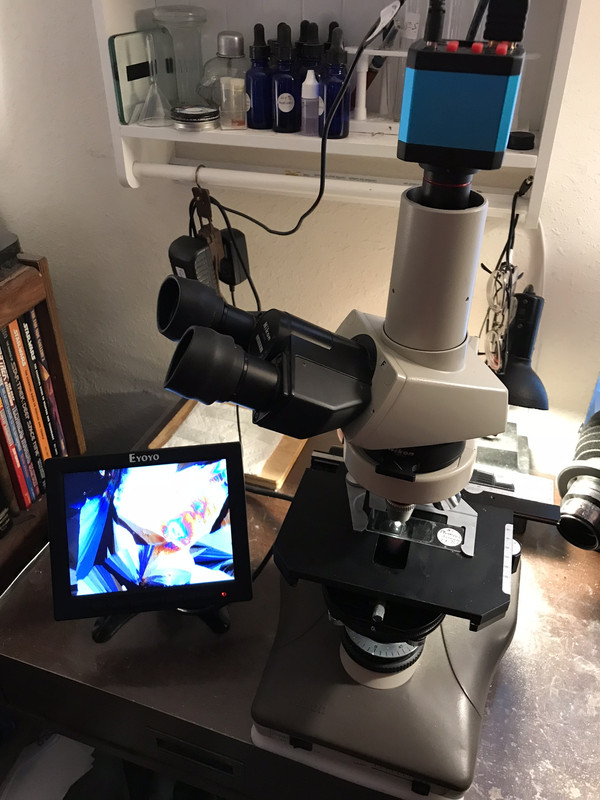 8" HDMI monitor
Now the nice things.
The resolution is nearly twice that of my Canon EOS 7D and doesn't sit atop the microscope like a weight just looking for some momentum.
There is no mirror flipping back and forth to create vibration, and the remote control makes it possible to pop the shutter or capture video without touching the camera or even the table.
The rub is having to take the memory card out and using an adapter to read it into the computer to upload pictures, but I can endure the inconvenience for these results.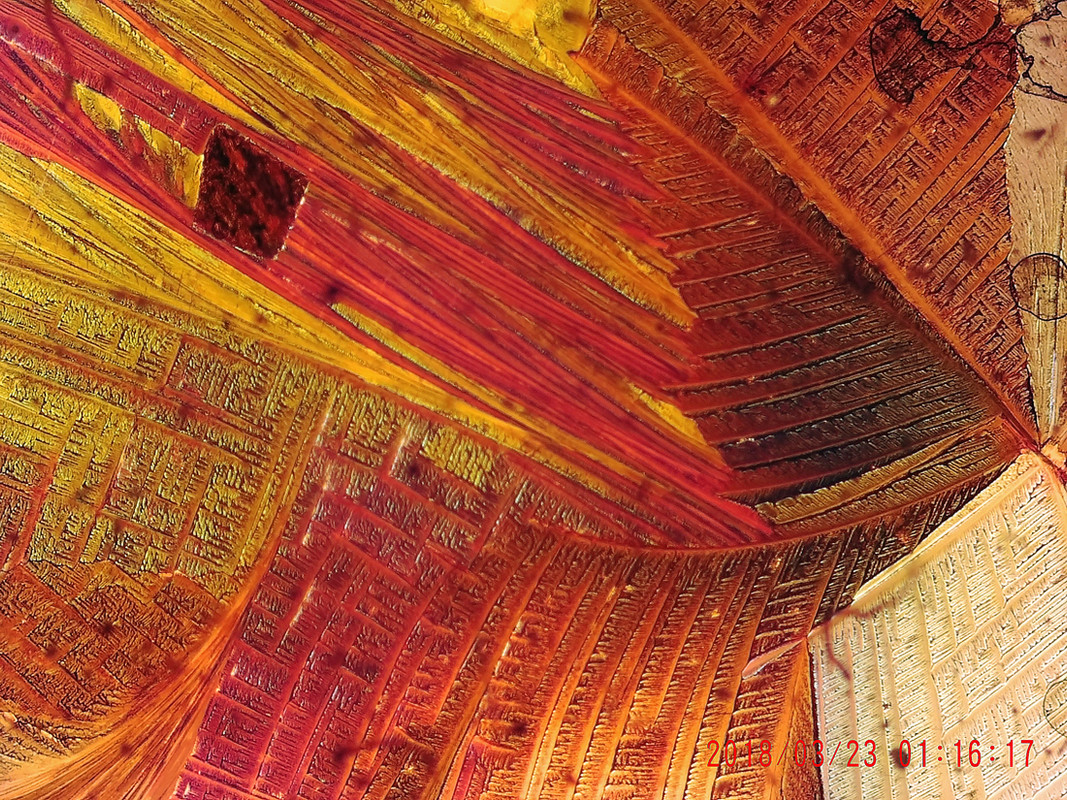 Safrinin-O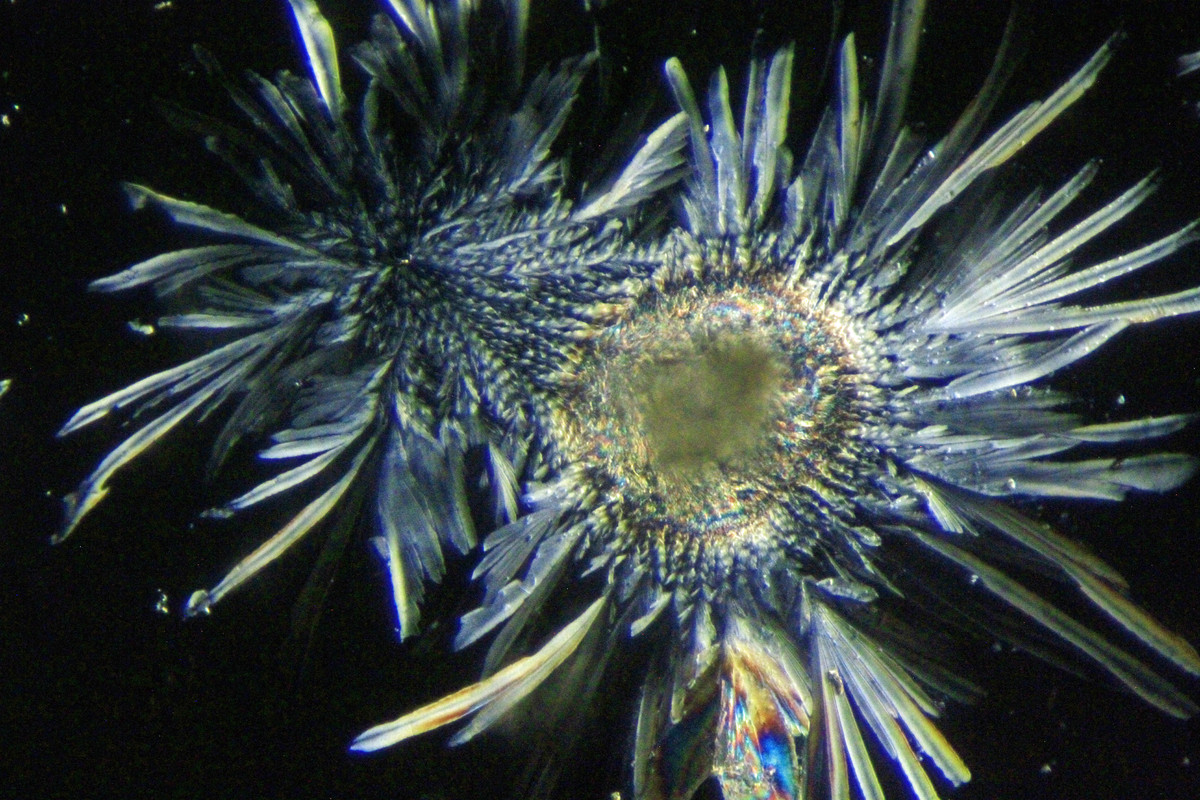 Vitamin C
Tylenol
I will publish some video on the forum when I can.
I still can't figure out how to get rid of the time stamp. I need to frame so as to leave room to crop it out.
Over all I am getting images close to what I see in the oculars. And I couldn't realistically expect more.
I'm happy with the purchase.
Hope this helps someone who is trying to decide about this camera
Radazz